Dear 9/11 Truth Friends and Activists,
Mark your calendars!  Boulder 9/11 Visibility is resuming 9/11 Truth meetings the forth Wednesday of each month!  See information below.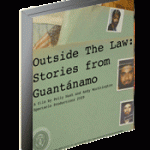 For our video presentation at this month's meeting, we are pleased to offer Outside the Law: Stories From Guantánamo. This film, which premiered at the Human Rights Film Festival in Oslo, Norway, in February 2010, humanizes the men who were deprived of the right to a trial and instead tortured for years at the hands of American military and intelligence agents.  Your view of these detainees will change radically after seeing this film.
Special guest and activist Susan Hall will join us to introduce the film and help lead the discussion afterward. See below for Susan's bio.
BOULDER
When: Wednesday, February 23, 2011, 7 pm – 9:30 pm
Where: University of Colorado, Boulder Campus, Math Building, room 350, third floor, northeast corner (This venue may change for subsequent Boulder meetings.)
Parking: Paid parking is available on Colorado Avenue or in CU Lot 359 west of the Math Building and directly across from Folsom Field Stadium.
Directions: From 28th St., turn west on Colorado Ave. pass Regent St.  Mathematics Building will be on your left.  http://www.colorado.edu/parking/maps/documents/main_campus_parking.pdf
DENVER
Mark your calendars!  Colorado 9/11 Visibility Video and Action Meetings are held the 3rd Friday of each month in Denver.
When: Friday, February 18, 2011,  7 pm – 9:30 pm
Where: Hooked on Colfax Coffee-Books-Community, 3213 E. Colfax Ave., Denver 80206 (303-398-2665)
(1/2 mile west of Colorado Blvd., between Adams and Steele, on north side of Colfax)
*Admission Is free*
Please observe the parking signs: Steele St., 16th Ave., and Colfax Ave. usually have available parking spaces.
Denver Meeting Timeline:
7:00 – 7:20:  Announcements
7:20 – 8:35:  Video
8:35 – 9:30:  Discussion and Action Suggestions
Video: Outside the Law: Stories From Guantánamo
Running time: 75 minutes
This film tells the story of Guantánamo, extraordinary rendition, and secret prisons, and exams how the Bush administration turned its back on domestic and international law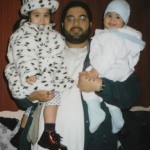 by rounding up prisoners in Afghanistan and Pakistan without adequate screening–often for large bounty payments.
It also informs us that some of these men appear to have been in Afghanistan or Pakistan for reasons unconnected with militancy or terrorism–for example, as missionaries or humanitarian aid workers.
Focusing on the stories of three particular prisoners–Shaker Aamer (still detained, seen at right with his children before rendition to Guantánamo), Binyam Mohamed (released, 2/09), and Omar Deghayes (released, 12/07)–Outside the Law provides a powerful rebuke to those who believe that Guantánamo holds "the worst of the worst."
The film also challenges the Bush administration for, in the wake of the 9/11 attacks, holding men neither as prisoners of war protected by the Geneva Conventions nor as criminal suspects with habeas corpus rights, but rather as "unlawful enemy combatants," an ambiguous legal status in which an individual is denied access to our civilian court system and is allowed to be detained by the military for an indefinite period, even many years, under conditions of abuse and torture.
This film contains interviews with former prisoners Moazzam Begg and Omar Deghayes, lawyers for the prisoners Clive Stafford Smith in the UK and Tom Wilner in the US, and director and producer Andy Worthington.  It also includes appearances from Guantánamo's former Muslim chaplain James Yee, London-based imam Shakeel Begg, and British human rights lawyer Gareth Peirce.
"The film was fantastic! It has the unique ability of humanizing those who were detained at Guantánamo like no other I have seen." Sari Gelzer ~ Truthout
Bio of our special guest, Susan Hall: When Susan read the book Guantánamo Files: The Stories of the 759 Detainees in America's Illegal Prison by British historian/author/filmmaker Andy Worthington, she was moved to help these detainees.  She campaigns mainly for Shaker Aamer, Omar Khadr, and Bradley Manning (Wikileaks whistleblower).  In addition to many other actions, Susan has walked her Broomfield neighborhood educating people about the plight of the detainees, persuading almost everyone with whom she speaks to sign a petition denouncing the use of torture and declaring that released Guantánamo detainees are welcome to live in their neighborhood.  To network with Susan or help with her campaign, see her website, http://wanac are.ning.com/.
Susan wants us to remember the poem by Pastor Martin Niemoller, First They Came…
First they came for the communists, and I didn't speak out because I wasn't a communist.
Then they came for the trade unionists, and I didn't speak out because I wasn't a trade unionist.
Then they came for the Jews, and I didn't speak out because I wasn't a Jew.
Then they came for me, and there was no one left to speak out for me.
To learn more about the ACLU role in helping these detainees, please see http://www.aclu.org/blog/national-security/they-were-buying-arabs-pakistan
See Andy Worthington's website, http://www.nogitmos.org/, to learn how to help the former and current detainees.
Another organization dedicated to helping these detainees is http://www.cageprisoners.com.  Their mission is to improve the circumstances and situation of political detainees worldwide, specifically those interned as a result of the War on Terror and its side campaigns.
Please consider joining us for this important film and bring a friend!