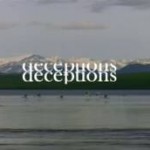 Mark your calendars!  The Denver chapter of Colorado 9/11 Visibility meets on the third Friday of every month, and Boulder 9/11 Visibility meets on the fourth Wednesday of each month.  Details below.
For our video presentation at this month's meetings in Denver and Boulder, we are pleased to offer Deceptions, a film by Chris Pratt. Deceptions is a film about awareness and critical thinking. Starting with 9/11 and proceeding through Bush and then Obama, the film reveals an elite of a much higher order. Master puppeteers of unimaginable wealth and power, an elite shrouded in secrecy and protected by layers of the super rich, and a media that controls both the news and public opinion. They are the ones pulling the strings, the ones in charge.
Chris Pratt, a Vermont neural plasticity expert who calls himself a "citizen journalist," made this film in the midst of his own crisis of discovery, and dedicated it to the unveiling of several deceptions and the waking up of America.
This is the theme of our times. And the people are rising, making films, educating ourselves, standing up, and finding our voice. Join us for this remarkable film, 58 minutes in length.
For those who cannot attend, you can watch the film online at deceptionsusa.com.
For a review of the film, see http://www.deceptionsusa.com/Film-Review.html [Read more…]