Breaking news!
Colorado's KBDI-TV Channel 12 to Air 9/11 Truth Documentary:
9/11 Press for Truth
Wednesday, June 3rd, 2009
7:00 pm,
KBDI (Channel 12) in Denver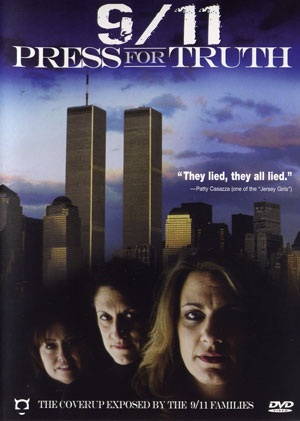 Executive Producer, Kyle Hence; Director, Ray Nowosielski; and family member Bob McIlvaine who lost his son, Bobby, in the attacks on New York will all be interviewed during the pledge breaks.
If Channel 12 has a successful pledge drive with this excellent film, other Public Broadcast Stations around the nation may pick this up and show it–or another 9/11 truth film.  KBDI, in showing this film, is doing what media should do:  showing all sides of an issue so we become an informed public that can then make informed decisions.  Stations like KBDI are nonprofit and survive on community sponsorship….this is OUR media.
This is what each of us can do:
During the showing on Wednesday night, call in and offer your thanks in the form of donating and becoming a member of this gutsy PBS station.
If you cannot afford to become a member, then call in anyway and offer as a donation whatever you are able to give!
If you cannot afford money, make a brief call and offer your thanks!
Pool your resources with a friend or two, call in to join, and divide between you the wonderful 9/11 truth gifts you will receive for joining KBDI.
Forward this information to all your contacts in Colorado.
This is the crack in the mainstream media we have been waiting for, and this crack could widen if this drive is financially successful for Colorado's Channel 12!
Below is KBDI's press release for this historic screening.
Yours for truth and a peaceful world,
Fran Shure, Tim Boyle, Michael Wolsey, Michael Anderson, and Dorothy Lorig
****************************************************
Sent: Tuesday, May 26, 2009 8:05 PM
Subject: U.S. Broadcast Premier of '9/11 Press for Truth' on Channel 12
For immediate release

'9/11 Press for Truth' U.S. Television Premiere will be June 3
on KBDI-Channel 12
The film's producer and a victim's father will be in KBDI's studio for the premiere
DENVER – (May 26, 2009) – 9/11 Press for Truth, an independent documentary that claims a 9/11 cover-up, has been shown in theatres and broadcast overseas, but it hasn't been aired on a U.S. broadcast station.
That will change next week when KBDI-Channel 12 premiers the controversial documentary Wednesday, June 3 at 7 p.m.
During Channel 12's premiere, Bob McIlvaine, who lost his son Bobby at the World Trade Center, and 9/11Press for Truth  producer Kyle Hence will join KBDI-Channel 12's Shari Bernson in KBDI's studio.
9/ll Press for Truth emerged from a group of grieving activist families that joined together to demand a press for truth.  Five of the families – including McIlvaine and three of the famous "Jersey Girls" – tell their story in the documentary, providing argument for why 9/11 still needs investigation.
The families found an ally in Paul Thompson, who wrote a definitive 9/11 timeline, and also found allies in the filmmakers who stitch together rare, overlooked news clips, buried stories and government press conferences, revealing what is portrayed as a pattern of lies, deception and spin.
The documentary asserts that although independent investigations began within weeks of both Pearl Harbor and the Kennedy assassination, the same was not true of the attacks of September 11, and the formation of the 9/11 Commission was strongly opposed by many in Washington, including the Bush Administration.  It was only due to pressure from the 9/11 families, led by twelve calling themselves the Family Steering Committee, that, 14 months after the attacks, the first hearing began.
"Channel 12 zeroed in on this documentary to further our exploration of the movement toward truth and accountability in the country," Bernson said.  The station is already receiving inquiry calls and emails, she said. "We are pleased to see interest in the subject matter that shouldn't be shunned, and deserves to be discussed more widely."
The documentary premiered theatrically in New York City in 2006 and has been shown in cities across the United States and throughout the world.
Wednesday's airing represents its first on a U.S. broadcast station, and the first time a PBS affiliate has given voice to documentary filmmakers who have credibly challenged the official narrative of what happened on 9/11 and why.
The program will repeat on Channel 12.  A full schedule of air times for all of the programs can be found at http://www.KBDI.org.
Graphic available at http://www.kbdi.org/about_kbdi/press_room.cfm