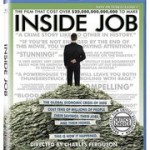 For our video selection this month, we are pleased to present INSIDE JOB, produced, written, and directed by Charles Ferguson. Once again we look beyond the events of 9/11 to explore a larger theme, that of how the average citizen is marginalized, weakened, and debt-enslaved by an economic system that serves the very wealthy at the expense of everyone else.  Rarely does a film come along that is as timely and effective as this one at ripping the cover off the deception.
Winner of "Best Documentary" at the 2011 Academy Awards, INSIDE JOB is the first film to expose the shocking truth behind the economic crisis of 2008. The global financial meltdown, at a cost of over $20 trillion, resulted in millions of people losing their homes and jobs. Through extensive research and interviews with major financial insiders, politicians, and journalists, INSIDE JOB traces the rise of a rogue industry and unveils the corrosive relationships which have corrupted politics, regulation, and academia. Narrated by Academy Award winner Matt Damon, INSIDE JOB was made on location in the United States, Iceland, England, France, Singapore, and China.
For those who cannot attend, you can purchase the dvd at your favorite retailer.  It is also available on Netflix.
See the trailer, reviews of the film, and more at http://www.sonyclassics.com/insidejob/
DENVER
Mark your calendars!  Colorado 9/11 Visibility Video and Action Meetings are held the 3rd Friday of each month in Denver.
When: Friday, April 15, 2011, 7:00 pm
Where:
Hooked on Colfax Coffee-Books-Community
3213 E. Colfax Ave., Denver (303-398-2665)
(1/2 mile west of Colorado Blvd., between
Adams and Steele, on north side of Colfax)
*Admission Is free*
Please observe the parking signs: Steele St., 16th Ave., and Colfax Ave. usually have available parking spaces.
Meeting Timeline:
7:00 – 7:15:  Announcements
7:15 – 9:15:  Video
9:15 – 9:30:  Discussion
Video: INSIDE JOB, 120 minutes
BOULDER
Mark your calendars!  Boulder 9/11 Visibility Video and Action Meetings are held the 4th Wednesday of each month.
When: Wednesday, April 27, 2011, 6 pm – 8:30 pm
Where: University of Colorado, Boulder Campus, Math Building, room 350, third floor, northeast corner (This venue may change for subsequent Boulder meetings.)
Parking: Paid parking is available on Colorado Avenue or in CU Lot 359 west of the Math Building and directly across from Folsom Field Stadium.
Directions: From 28th St., turn west on Colorado Ave., pass Regent St.  Mathematics Building will be on your left.  http://www.colorado.edu/parking/maps/documents/main_campus_parking.pdf
Video: INSIDE JOB, 120 minutes
Statement from the Director

This film attempts to provide a comprehensive portrayal of an extremely important and timely subject: the worst financial crisis since the Depression, which continues to haunt us via Europe's debt problems and global financial instability. It was a completely avoidable crisis; indeed for 40 years after the reforms following the Great Depression, the United States did not have a single financial crisis. However, the progressive deregulation of the financial sector since the 1980s gave rise to an increasingly criminal industry, whose "innovations" have produced a succession of financial crises. Each crisis has been worse than the last; and yet, due to the industry's increasing wealth and power, each crisis has seen few people go to prison. In the case of this crisis, nobody has gone to prison, despite fraud that caused trillions of dollars in losses. I hope that the film, in less than two hours, will enable everyone to understand the fundamental nature and causes of this problem. It is also my hope that, whatever political opinions individual viewers may have, that after seeing this film we can all agree on the importance of restoring honesty and stability to our financial system, and of holding accountable those who destroyed it.
–Charles Ferguson
"A very angry, very carefully argued, brutally clear documentary about how the American financial industry set out deliberately to defraud the ordinary American investor."  –Roger Ebert, Chicago Sun-Times
Please consider joining us in either Boulder or Denver for this important film and bring a friend!
Fran, Tim, Marti, Dorothy, Simone, Earl, Michael
www.colorado911visibility.org