San Francisco Bay Area architect Richard Gage, AIA, will present in Denver Friday, June 21, 2013, 7:00 PM, at the Colorado Convention Center, 700 14th Street, Denver, Colorado, room 110.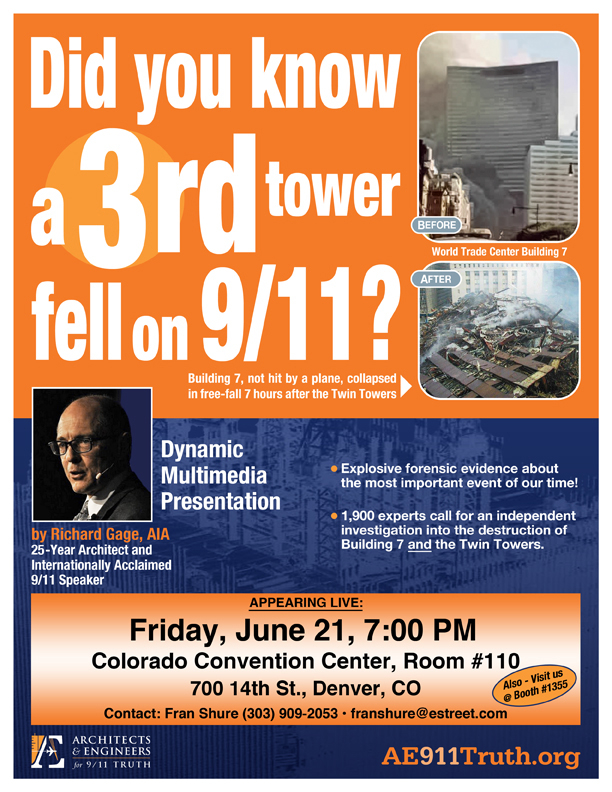 Please come and bring a skeptical or uninformed friend–especially an architect, engineer, or scientist if you know such a person. We invite you to forward this announcement to all your contacts–in this way we all become the press.
This presentation by Mr. Gage will dovetail with the prestigious American Institute of Architects National Convention, which meets June 20 – 22 at the Colorado Convention Center. There will be an opportunity for questions after the presentation–the toughest questions are welcomed!
This classic multimedia presentation provides the overwhelming evidence of explosive controlled demolition of all three WTC high-rise buildings on September 11, 2001. It includes up-to-date graphics and video and the latest forensic evidence on World Trade Center Building #7 (WTC7) and the Twin Towers.  The examination of the destruction of these three buildings will include
Sudden Onset of Destruction
Symmetrical Collapse & Progression
Squibs
Demolition Waves
Near Free-fall Acceleration of the Twin Towers
Free-fall Acceleration of WTC7
Total Dismemberment
Lateral Ejection of Steel
Adjacent Structures
Sounds/Flashes and Explosions
Pyroclastic-like Clouds
Iron Spheres & Molten Metal
Nano-thermite Evidence
ASCE, FEMA & NIST Reports
Whistle-blowers
Destruction of Evidence
Expert Corroboration
Foreknowledge
Important Monthly Meeting Updates
______________________________________
DENVER
Attention: Our monthly meeting is canceled this month since the date conflicts with this presentation by Richard Gage, AIA. 
But, mark your calendars! Colorado 9/11 Visibility Video and Action Meetings are otherwise held the 3rd Friday of each month in Denver.
Where: Hooked on Colfax Coffee-Books-Community, 3213 E. Colfax Ave., Denver  (303-398-2665) (1/2 mile west of Colorado Blvd., between Adams and Steele, on north side of Colfax) (Map)
*Admission is free, donations are welcome, and buy a beverage from Hooked on Colfax to support them*
Please observe the parking signs: Steele St., 16th Ave., and Colfax Ave. usually have available parking spaces.
Meeting Timeline:
7:00 – 9:30 normally
________________________________________
BOULDER
Mark your calendars! Boulder 9/11 Visibility Video and Action Meetings are held the 4th Wednesday of each month.
When: Wednesday, June 26, 2013, 6:00 PM – 8:30 PM
What: Boulder 9/11 Visibility will show the classic film 9/11 Mysteries. For a description of this film, see https://colorado911visibility.org/.
Where: University of Colorado, Boulder, Math Building, Room 350, third floor, northeast corner
Parking: Free parking is available after 5:00 PM on Colorado Avenue or in CU Lot 359 due west of the Math Building (but very competitive when school is in session). Paid parking ($3 flat fee) is available in Lot 360 directly across the street from Folsom Field Stadium.
Directions: From 28th St., turn west on Colorado Ave.; go through the lights at Regent St. and Folsom Avenue. The Mathematics Building will be on your left at the Folsom intersection, although you must proceed west to the parking lots and walk back to the building.  http://www.colorado.edu/pts/sites/default/files/attached-files/UCB_ParkingMap2012-13_WEB_1.pdf
Meeting Timeline:
6:00 – 6:30  Announcements, introductions
6:30 – 8:00  Video
8:00 – 8:30  Discussion
________________________________________
GRAND JUNCTION
Attention: Grand Junction will cancel its monthly meeting this month.
When: Normally held on a Saturday,  9:30 – 11:30 AM
Where: Beans About Beans, 759 Horizon Drive (located by Enzo's Pizza, across from Grand Vista Hotel), Grand Junction, CO (Map)
Program: Details of the last program can be seen at http://www.meetup.com/GrandJunctionInfoCinema/events/116874192/